About Your Oshawa Roofing Contractor, Crowells Roofing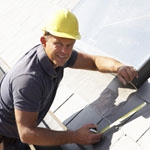 For over 40 years the team at Crowells Roofing has provided premier roofing service for homeowners in Oshawa. From roof replacement and brand new construction roofing to roof repairs and inspections, we offer comprehensive work that meets all your needs. We also specialize in skylight installation, custom siding, gutters and insulation services. From start to finish you can depend on Crowells Roofing as your Oshawa roofing contractor to build you a durable, high quality roof that will last you for many years to come. We work on all roof types including asphalt shingle, metal, tile, and other types of roofing. Contact us today and let us help you launch your upcoming roofing project.
Quality Roofing You Can Depend On
When you partner with Crowells Roofing, you get the benefit of working with seasoned and experienced roofers who have worked on hundreds of residential properties throughout the Oshawa area, Bowmanville, Courtice, and nearby. Our entire team is Canada certified and fully licensed in all areas of roofing and we know what it takes to built a first rate roof that brings you 100% satisfaction every time. Our Oshawa roofing contractors work closely with each of our clients through the entire building or re-building process until the job is completed to your exact specifications. We never take shortcuts and use only the finest materials in the industry. Count on us to deliver your roof with amazing results.
Protect Your House With Insulation
Safeguard your home from the outside elements with brand new insulation from Crowells Roofing. We offer full insulation throughout your entire home. We begin with a thorough inspection of all key areas of your home interior. This includes all walls, ceilings, floors, and attic space. We then help you determine what type of insulation is ideal for your home. Once you choose the right insulation products, we go to work to implement the insulation in a safe and efficient manner. Once the insulation is in place your home it will create an impenetrable tight seal that shields your home interior from moisture, humidity, and extreme temperatures outside.
New Construction Services
If you're building a brand new home, then we are the Oshawa roofing contractor that can help you top it off with a brand new roof. We work with reputable contractors in the Oshawa area through the roofing phase of construction, and have built a reputation as a roofing company that general contractors can trust to do superior work. We work efficiently, meet all deadlines, and can work on any roofing plans no matter how simple or complex. Don't settle for less than the absolute best for your roof. Call a Crowells Roofing specialists today and let us help you get the roof you've always wanted for your home. We are the roofing experts in Oshawa!
Let Our Oshawa Roofing Contractors Help You With:
Recent Oshawa Roofing Articles
Comparing Four Types of Residential Roofing in Oshawa, ON

With modern homes come modern roofing options that were never before available on the market in Oshawa, ON. Today's technological advances have given Oshawa homeowners more than one type of roof to choose from in order to provide maximum protection for any home construction. From natural materials like wooden frames to synthetic roofing such as…

Read More

4 Advantages of Professional Oshawa Roofing Maintenance

Your home's roof is the main source of protection for everything and everyone inside your house. Many homeowners in Oshawa, ON assume that their roof will last forever without requiring any maintenance whatsoever. It's easy to go along with this line of thinking, too, since most roofs last around 10-15 years. However, it simply isn't…

Read More

If you are looking for an Oshawa roofing contractor then please call 905-926-1765 or complete our online request form.