Oshawa New Construction Roofing Solutions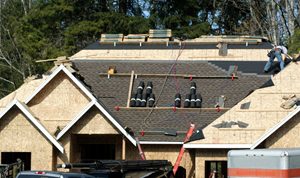 Whether you're building your brand new home from the foundation up or looking to expand your current property, it's vital to hire roof roofing contractor in Oshawa or the surrounding areas that can give you the results you're looking for in a manner that is efficient and dependable. Roof installation is a pivotal part of your construction project and needs to be carried out professionally, safely, on time and on budget. At Crowells Roofing, we have a built a solid name in the roofing industry as a premier Oshawa new construction roofing contractor who can built you a durable, long lasting roof that will provide ultimate protection for many years to come!
We Work With General Contractors
We partner with developers, home builders, and homeowners to offer new construction roofing services in Oshawa, Bowmanville, Courtice, and the surrounding areas of Ontario for all types of homes, large and small. If you are using a general contractor, let them know you prefer to use Crowells Roofing to complete the roof installation stage of the construction on your new home. Our Oshawa roofers can take your developers current plans and build the roof to the exact specifications. We've worked with several contractors in the Oshawa area and know what it takes to make sure that new roofs are built according to project schedule. We are licensed and certified in all areas of roofing in Oshawa and the surrounding areas no matter what type of roof you want on your house.
New Roof Options & Features
With new roofing options the sky is the limit! There are numerous features, styles, and designs that you can choose from. Some initial things to consider are slope and roof size, roof types such as metal, asphalt shingles, or tile, color and tone of the roof, reinforcement and layers, and, of course, making sure that the overall look of the roof matches the home as a whole. Remember, that using high quality materials to build your roof matters and will save you down the road in repair and maintenance costs. You build your roof for protection as well as beauty. We can help you get it right the first time!
Superior Oshawa New Construction Roofing from Start to Finish
Crowells Roofing has a proven and sustainable track record of successfully completing new roof projects within the allotted schedule and to the highest level of quality craftsmanship anywhere in the Oshawa area. We've worked with hundreds of homeowners and have developed the experience and skill necessary in order to build your roof just the way you want it. We offer affordable rates, dependable work, and efficient service that is unmatched. Call our Oshawa new construction roofing specialsits today, and let us sit down with you in order to help design and build your roof. You'll be glad you did!
If you are looking for a contractor that installs roofing for new construction in Oshawa or the surrounding areas, then please call 905-926-1765 or complete our online request form.