The Markham Roofing Contractor of Choice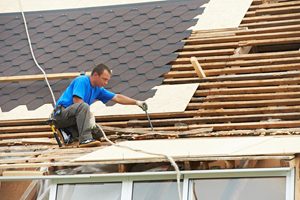 Crowells Roofing is a Markham roofing contractor with over 40 years of roofing experience. Our Markham roofing company offers complete service for homeowners in and around Markham, Ontario. The work our roofers in Markham perform includes roof repairs, full roof replacement, roof evaluations and inspections, and complete maintenance. If you're building a brand new home and need a roofing contractor for the roofing phase, we also provide comprehensive roofing service for all new construction. We also offer specialized services that focus on giving your home protection while making it more efficient. These services include gutters, skylights, siding, and full home insulation. Our mission as your preferred roofing contractor in Markham is to shield your home from the outside elements. You get the benefit of innovative design and style that helps your home stand out.
To learn more about our roofing services, call our professional Markham roofers today to schedule a consultation. We look forward to hearing from you and helping you with your roofing project!
Professional Service & Quality Roofing in Markham
At Crowells Roofing, one of the qualities that sets us apart as a local Markham roofing contractor is our experience. We have been helping homeowners with all of their roofing projects for over 40 years. In that time we have developed proven methods, dependable efficient work, and have utilized the most advanced equipment and tools of the trade. Combine that with our commitment to excellence, and we can guarantee absolute 100% satisfaction with every roof we build. We truly care about the needs of our clients and work closely with each homeowners every step of the way. No matter what type of roof you want or what design you have in mind, we will build you a roof that makes your home stand out. Whether you need a complete roof replacement or simple roof repairs in Markham, Crowells Roofing is here for you.
Markham Insulation Services
We more than just roofing services in Markham, ON. We also offer great insulation service that covers your entire home interior. If you haven't had your home inspected in several years, then you may not notice the old insulation breaking down. Brand new insulation will give you home the protection it needs and help y our air conditioner or heater operate far more efficiently. We inspect your home and identify crucial areas where moisture or air may be leaking in. We then help you choose the right type of insulation in Markham that will seal your home and keep the elements out. We insulate all areas of your home including the attic, through the walls, ceiling, flooring, and even targeted areas such as the garage.
Markham Siding Installation Professionals
Siding is far and away the most popular type of home covering. Markham siding today comes in a wide array of designs, colors, textures, and sizes. Siding is easy to remove and easy to install. It's also quite simple to maintain and clean. Siding seems to last forever and is an affordable choice compared to other home covering products. We install all types of siding including vinyl siding, wood siding, brick siding, fiber cement siding, stucco, and even stone or stone-veneer siding. We can custom cut and install siding in Markham according to your exact specifications. We'll have your new siding up in no time. You'll love the results!
If you are looking for a professional Markham roofing contractor then please call 905-926-1765 or complete our online request form.