The Trusted, Local Oshawa Roofing Contractor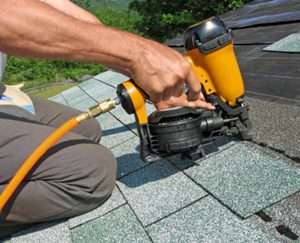 For over 40 years the team at Crowells Roofing has provided superior roofing work for homeowners in Oshawa and the surrounding area. We offer a wide array of roofing services in Oshawa, ON that including complete roofing for new construction projects, total replacement, accurate and thorough roof inspections, as well as emergency and planned roof repairs in Oshawa. We work hard with each roof we work on in order to guarantee you 100% satisfaction with the finished product. Check out our website for other residential services that we provide, such as the installation of insulation, exterior home siding, skylights, and gutters. It's our goal to provide your home with maximum protection for your home from top to bottom. We hope you'll choose Crowells Roofing the next time you need a Oshawa roofing contractor.
Quality Roofing You Can Rely On
One of the things that distinguishes Crowells Roofing from other roofers in Oshawa, Ontario is both our superior service and the roofs we build of the highest quality anywhere in the industry. We have worked on hundreds of homes in Oshawa for over four decades now, and know what it takes to build you a roof that will last for many years to come. We sit down with each of our clients and go over every detail of the re-roofing or new construction roofing process, from design to the finishing touches. You will have a complete understanding of the kind of roof you'll be getting and the materials that will go into it before we even drive in the first nail. We walk you through each phase of construction until the project is complete. This guarantees that you are happy with your roof when you let our Oshawa roofing contractors provide for your roof installation needs.
New Construction Roofing in Oshawa, Ontario
When building a new home, the most important component is the roof, as it gives you and your family ultimate protection throughout every season. So when it's time to add the roof you want, you need an Oshawa Roofing contractor you can trust to the job right the first time. Crowells Roofing has built a reputation in Oshawa as a premier roofing company that has successfully worked with general contractors through the roofing phase of new construction residential projects. Our Oshawa roofers can build a roof based on any blueprint and will work efficiently and meet all deadlines. We build roofs using all material types such as asphalt shingles, metal roofing, tile roofing and other popular brands. Don't settle for less than the best for your home. Contact us today, and let us help you add the perfect touch to your Oshawa new construction roofing project.
The Oshawa Gutters Experts
If you don't have gutters installed on your home, give us a call today! Oshawa gutters give your home protection from rain by channeling the water to a designated place away from the structure. This keeps your home from becoming vulnerable to flooding, standing water or splash stains up against the exterior. Having the proper gutters installed can also help you avoid the need for certain types of roof repairs in Oshawa, ON.
Our gutter installation pros install custom gutters that completely surround your roof. Our gutter products are fully functional as well as adding a touch of class and style to your home. You'll be happy to know that modern gutter systems also offer great features like guards which block leaves and debris from cluttering your gutters – meaning little to no more gutter cleaning chores! Call Crowells Roofing today to learn more.
Latest Oshawa Roofing Article
Importance of a Routine Roofing Inspection in Oshawa
Your roof is a vital component of your Oshawa home, so you'll need to maintain it as best you can through the years. And a great way to keep your roof in top-quality shape is to get routine roofing inspection.
Read More…
If you are looking for a professional Oshawa roofing contractor then please call 905-926-1765 or complete our online request form.