A Fully Certified & Experienced Peterborough Roofing Contactor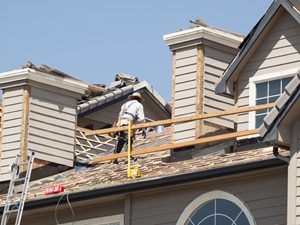 Are you looking for a Peterborough roofing contractor you can trust to take care of all your roofing needs? Call us today! Crowell's Roofing is a comprehensive roofing company that provides a wide array of services and products for residential properties throughout the Peterborough area.
Our Canada licensed and certified crew of professional roofers in Peterborough, Ontario can revitalize your home with a brand new roof that provides your family and everything inside ultimate protections and unmatched durability. Our expertise includes new construction roofing, replacement and repairs, thorough inspections, and even specialized services such as skylights, siding, and gutters. You get complete work done on your roof from leading Peterborough roofing contractors in the industry. Contact us today and let us help you with all your roofing needs in Peterborough, ON.
Quality Roofing Construction
When you partner with Crowell's Roofing for your new roof in Peterborough, you get the benefit of working with a seasoned crew of roofing contractors with decades of combined industry experience. We stand behind every job we do and work hard to achieve 100% satisfaction from each of our esteemed clients. We use the highest quality roofing materials in the industry that add value to your property and shield your home interior from the harsh outside elements. We install all types of roofing in Peterborough including metal roofs, asphalt shingles, tile roofing, and even flat roofs. No matter what you need, you can count on us for fast, efficient service, work you can depend on, and affordable rates that stay within your budget.
Peterborough Roof Replacements: Innovative Design & Craftsmanship
Roof installation in Peterborough is always a healthy investment for any homeowner. It increases you home's market value tremendously and keeps your insurance rates low. So why settle for less than the absolute best for your Peterborough roof replacement or new construction investment? There are many options that allow you to get creative roof designs that currently match your home. Beautiful asphalt shingle is available in different shades, textures, and sizes. You can also choose from metal roofing that looks completely natural and emulates all types of authentic textures. Whatever you choose, you can feel confident that it will add vibrancy to your home! Call today to learn more about the roofing products our Peterborough roofing services company provides.
We Do New Construction Roofing in Peterborough!
If your'e getting ready to launch your new construction project, now is the time to secure a proper Peterborough roofing company. Of all the roofing contractors in Peterborough, Crowell's offers top notch roofing. We make roof construction simpler than ever without all the hassle. Our builders have built solid working relationships with general contractors in the area in order to secure your home with superior roofing in the final stages of exterior construction. We can handle all components of the roofing phase including the addition of skylights, chimneys, and other major items that accent your roofing. We finish it off by adding accessories such as gutters. You get comprehensive work from a Peterborough roofing contractor you can trust.
If you are looking for a professional Peterborough roofing contractor then please call 905-926-1765 or complete our online request form.