Scarborough Roofing Contractor Services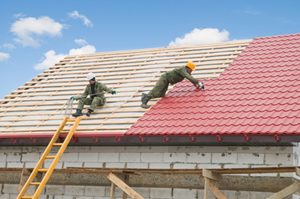 In Scarborough, homeowners turn to Crowells Roofing for all their roofing needs. From total roof replacement and brand new construction to roof inspections and roofing repairs in Scarborough, we offer a complete package of services and products for homeowners in the area. With Crowells Roofing serving as your Scarborough roofing contractor, you get the benefit of working with seasoned professionals with over 40 years of roofing experience. Our expertise ranges from traditional asphalt shingle roofing, to tile roofs, metal roofs, and other options for you to choose from. When it comes to your roof, don't settle for less. Go with the team of experienced Scarborough roofers at Crowells Roofing.
Innovative Design for Roof Replacements in Scarborough
The first step in any Scarborough roofing job is design and initial concepts. It's about sitting down with our clients in order to create a unique roof design that is right for your home. We draw up the plans, give you a good idea of what your roof will look like. Since the design phase is the most important, our Scarborough roofing contractors make certain to show you all options available to you and listen to all your ideas. With the right design, we can insure that your roofing project is completed on time with no guesswork. You get smooth service with no hassle and finished roof that you will enjoy for many years to come.
Should there come a time your home needs roof repairs in Scarborough, however, you can always rely on our roofers for fast, dependable service. We offer emergency roof repairs in Scarborough as well as professional and thorough roof inspections. If you think your roof may be damaged, call our team today to schedule a roof inspection in Scarborough. You can rely on Crowells Roofing, the leading roofing contractor in the Scarborough area, for an honest evaluation.
Protect Your Home With Scarborough Insulation
In Scarborough the weather can be harsh. This is why it's important to make sure your home is well insulated from the sunlight, extreme temperatures, wind and moisture. We offer complete insulation in Scarborough for all areas of your home. Whether it's your attic or walls, we can find the areas of your home that are unprotected, remove that old insulation and replace it with brand new insulation that provides full protection all year long no matter what the weather is like outside. We use only the finest Scarborough insulation products from reputable manufacturers you know and trust.
Brand New Siding in Scarborough
Scarborough siding is hands down the most popular type of home exterior on the market today. With numerous styles and materials to choose from, unmatched durability, ease of installation, and affordability, siding is the smart choice for any homeowner. You can choose from vinyl siding, wood, brick, fiber cement siding, stucco siding, and stone veneer. Each has their own unique features and benefits which are sure to enhance your home and give it an attractive look that will set it apart. Contact a siding and roofing contractor in Scarborough at Crowells Roofing today in order to discover how we can help you with your home exterior improvement project.
If you are looking for a professional Scarborough roofing contractor then please call 905-926-1765 or complete our online request form.