The Preferred Whitby Roofing Contractor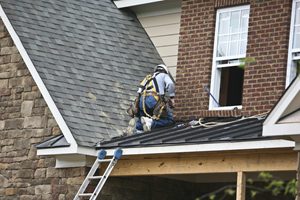 When it comes to roofing services, homeowners throughout the area rely on the Whitby roofing contractor they know they can trust: Crowells Roofing. For over 40 years we have been providing a full range of roofing services throughout Whitby, assisting homeowners with everything from new construction roofing to roof repairs in Whitby, ON. Fully certified and experienced, Crowells Roofing has the skills and tools needed to tackle any residential roofing project, large or small.
Our Whitby roofing contractor services company also provides other home improvement services, like insulation installation, skylights, siding and gutters. Whatever your exterior home improvement needs are, you can rely on our Whitby roofing contractors for expert results. Contact one of our specialists today to schedule an inspection or to get started on your project with a free estimate. We look forward to earning your business and being your preferred roofer in Whitby.
Roof Repairs in Whitby
If a recent storm has hit your home, it's important that you find out the condition of your roof. Harsh weather often leaves roofs in Whitby in a damaged state; but if homeowners are unaware repairs are needed, their roofing system can suffer. Don't find yourself needing a complete roof replacement down the road just because you neglected to have your roof inspected. Call one of our expert roofing contractors today to schedule a professional roof inspection for your home. Our professionals will give you an honest evaluation of your roof, and recommend any necessary actions to improve the overall integrity of your roofing. Should you end up needing roof repairs in Whitby, our team of skilled roofers will take care of it promptly, so your roofing structure doesn't degrade further.
Whitby New Construction Roofing Experts
Whether you're in the process of building a new home or have decided to invest in a new type of roofing material, such as durable metal roofing or the ever attractive cedar shakes that are so widely popular in our area, Crowells Roofing is the new construction roofing contractor in Whitby to call. We specialize in building new roofs, and are happy to work with everyone from home builders to homeowners. Whatever type of roof you are interested in building, our Whitby new construction roofing team can install it flawlessly.
Total Roof Replacement in Whitby, ON
In the unfortunate event that you find yourself needing a total roof replacement in Whitby, ON, call us. We understand how frustrating this process can be, especially when it comes unexpected. That's why our roofing company offers comprehensive roofing services. You can count on our roofers to be there for you from start to finish. Whatever your roofing needs are, from a complete re-roofing to simple roof repairs in Whitby, ON, Crowells Roofing is dedicated to your complete satisfaction with our services. Call today for a free estimate for your roofing needs.
If you are looking for a professional Whitby roofing contractor then please call 905-926-1765 or complete our online request form.