Comparing Four Types of Residential Roofing in Oshawa, ON
---
---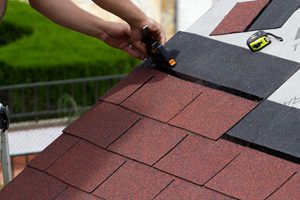 With modern homes come modern roofing options that were never before available on the market in Oshawa, ON. Today's technological advances have given Oshawa homeowners more than one type of roof to choose from in order to provide maximum protection for any home construction. From natural materials like wooden frames to synthetic roofing such as asphalt, metal or various light-weight tile roofing in Oshawa, ON, you can now have a custom designed roof that is durable, weather proof, and stylish all in one. We explore four different types of roofing options that are popular in the Oshawa area in order to help you pick the right roof for your home.
Asphalt Shingles
Of all the roofing material used in Oshawa, asphalt roofing shingles are hands down the most popular. There are several practical reasons for this. Shingles are constructed from a combination of paper, fiberglass, and asphalt, and then attached to a wood frame via industrial grade adhesive. Shingles are environmentally friendly and easy to install and replace. They are also a very affordable option compared to other types of roofing in Oshawa. On average, shingles can last anywhere from 20-30 years. There are several variables which affect how long they actually last on any roof.
Metal Roofing in Oshawa
Although still relatively new for homeowners, metal roofing is quickly growing in popularity. One of the biggest reasons for this is that metal roofing is capable of providing the same aesthetically pleasing quality as other types of roofing, specifically shingles. Metal roofing can be designed with different colors, styles, and textures, in order to simulate other types of Oshawa roofing. The difference is that it's much more wind resistant and provides absolute protection in harsh weather. From an insurance standpoint it's a great investment. It's a moderate investment in terms of cost. It's installed in large sheets in order to provide a more cohesive look on any home.
Oshawa Tile Roofing Options
Nothing distinguishes a home quite like tile roofing in Oshawa. Most tile roofing falls into two categories: clay tile and concrete tile. The differences in material are obvious. Clay tile is made from natural clay that is heated at extreme temperatures and hardened. Concrete tile is generally a combination of cement and sand in order to give it a distinctive look. Tile holds up rather well for several years and is both wind and moisture resistant. While you will experience a single tile that breaks or cracks from time to time, this type of roofing is easy to repair and easy to replace.
Flat Roofing
Although it is generally applied on commercial properties and industrial buildings, homeowners will also choose flat roofing for their homes or room additions. This greatly dependent on what type of home they have and the conditions under which they prefer a flat roof. Most flat roofs are built with two layers that are heavily sealed. Since flat roofs may retain water, the quality of the seal and the layers is absolutely vital to the health of the roof. Flat roofs are easier to climb upon and perform maintenance. They are more stable than sloped designs, and are easier and less expensive to maintain.
Regardless of what type of roofing you choose for your new construction or re-roofing project, make certain you hire a reliable Oshawa roofing contractor for the roof installation process. It is pointless to invest in quality roofing materials if the roofer you hire doesn't install it correctly to begin with – you'll just find yourself needing repairs or replacement sooner than you should. So make the right choice – call Crowells Roofing today to schedule a professional consultation for your new roof project.
If you are looking for an Oshawa roofing contractor that installs the roofing types mentioned above, then please call 905-926-1765 or complete our online request form.