Importance of a Routine Roofing Inspection
---
---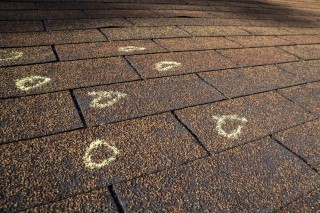 Your roof is a vital component of your Oshawa home, so you'll need to maintain it as best you can through the years. And a great way to keep your roof in top-quality shape is to get routine roofing inspection.
Roofing inspections can provide a wealth of great benefits for your Oshawa home. They can help to save you money while helping to provide some great safety benefits for you and your loved ones.
Of course, to fully enjoy all of the great benefits that regular roofing inspections can provide, you need to be sure to have yours provided by an experienced Oshawa roofer such as Crowells Roofing. With our thorough roofing inspections, you can be sure to fully enjoy the following great benefits:
Extend the Life of Your Roof
Because it remains exposed to the elements at all times, your Oshawa roof will sustain wear and tear pretty much constantly. And as this wear occurs through the years, your roof's lifespan could be greatly shortened. In time, you might find yourself having to endure the cost and headache of replacing your roof many years earlier than expected.
Luckily, you can avoid this headache and cost by getting routine roofing inspection. With routine inspections, your roofer will be able to locate any developing wear and other such issues on your roof. By fixing these issues, your roofer can ensure that your roof will enjoy the longest possible lifespan.
Save Money on Maintenance Costs
Since your roof remains exposed to the sun and rain and other elements, it will inevitably develop wear and tear. Of course, this wear and tear won't immediately manifest itself as a completely useless roof. Rather, it will often manifest as smaller issues — which will, of course, require repairs to keep your roof going.
Unfortunately, the cost of these repairs can add up through the years, in time costing you many thousands in roofing work. If you want to avoid that work, you need to get a routine roofing inspection. By providing regular inspections, your roofer will be able to find and repair these issues while they're still minor, thus saving you money on roof maintenance.
Keep Your Family Safe
Your roof provides an important function of keeping you and your loved ones safe and protected from the elements. Of course, if your roof begins to wear down over time, you could lose a great deal of that protection. Indeed, in such a situation, you roof might even become a danger itself as it becomes susceptible to cave-ins.
If you want to keep your loved ones as safe and protected as can be, then you need to keep your roof in durable condition. And to do that, simply call your Oshawa roofer for routine roofing work. This work will ensure that your roof remains in the safest possible condition so that your loved ones can remain protected.
If you are looking for an Oshawa roofing contractor, then please call Crowells Roofing at 905-926-1765 or complete our online request form.