Dependable Roof Repairs in Oshawa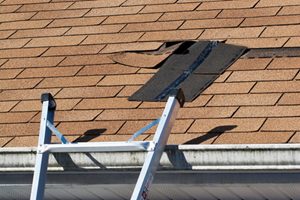 In Oshawa and the surrounding areas of Ontario, homeowners trust Crowells Roofing for all their roofing needs – especially roof repairs. That's because our Oshawa roofers are experienced professionals, and our company offers complete roofing repair from top to bottom. We can restore your roof back to top condition in order to give your home maximum protection from sunlight, heat, cold, and high winds. Our Oshawa roof repairs team works on all types of roofs, but we specialize in asphalt shingles and metal roofs both new and old. Whether you have an old roof that simply needs to be restored or your home has recently suffered a violent storm, we can repair each part of your roof. Contact us today and let us get to work on your roof repairs in Oshawa or the surrounding areas.
Complete Roof Inspection
Before we work on your roof, we perform a point by point roof inspection in order to assess the damage. This includes a full sweep of the supporting framework, all boards, shingles or tiles, and the ventilation areas. After the inspection we will give you a full report of the damage with recommendations on what needs to be done. Our Oshawa roofing contractors have decades of combined experience with all roofing materials, so we know exactly what to look for during the inspection. If there are any problems with your roof we'll identify them and then work to fully restore your roof.
Re-Roofing & Full Roof Replacement
In some cases the damage to your roof is so great that you'll need to consider a full roof replacement. A brand new roof has several benefits. First, it will greatly improve your home's curb appeal and give new life to your home exterior. Second, it will increase your home's market value in case you want to sell your home down the road. Last, it will keep your insurance rates low. The service our Oshawa roof repairs and replacement company offers is comprehensive. This means that we come in and take all the old roofing off the house. We then begin the process of building your new roof. With a new roof, you can have peace of mind knowing that your family is protected.
Go With the Oshawa Roof Repairs Experts
At Crowells Roofing we pride ourselves in being able deliver amazing results to every roof job we perform. Our goal is to earn your trust and your business. We are dedicated to providing you with the highest level of custom satisfaction and quality products anywhere in the industry. We certify and train each of our contractors. This guarantees that the job will be done to your exact specifications. Our rates are affordable and stay within your budget. When it comes to your home investment, don't settle for less than the absolute best. Go with Crowells Roofing whenever you need roofing in Oshawa or the surrounding areas. We are the roof experts!
If you need roof repairs in Oshawa or the surrounding areas, then please call 905-926-1765 or complete our online request form.