Oshawa Roof Replacement Specialists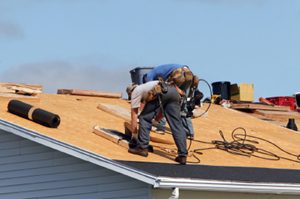 Are you getting ready to build a new roof? Then hire the Oshawa roof replacement experts that homeowners across Ontario hire for all their roofing needs. At Crowells Roofing we offer a wide array of roofing services in Oshawa, Bowmanville, Courtice, and the surrounding areas that includes full repair, whole roof replacement, and brand new roof installation for new homes. We guarantee quality work, fast, efficient service and competitive rates. With roof replacement in Oshawa or the surrounding areas completed by our experienced roofers, you get a quality roof product that provides superior protection for everything and everyone in your home. Contact our Oshawa roofing services experts today and let us schedule an initial consultation in order to get your construction project off the ground.
Get Your Roof Inspected for Replacement
The only way to really know if you need a roof is to get yours professionally inspected by a seasoned, experienced Oshawa roofing contractor. Our professional roofers in Oshawa have decades of combined industry experience, and have inspected and worked on hundreds of roofs throughout Ontario. This gives us the knowledge and expertise of what exactly to look for while giving you an honest, accurate assessment. Our primary concern is your family's safety. An old roof that has a lot of damage will give us an indication that you need to get a new roof right away before it's too late. After the roof inspection, we'll give you a step by step process of replacing your roof and strengthening your home.
Great Roofing Products
Regardless of what materials currently makeup your roof, we can replace it by installing the most durable products on the market. Our roofing products are hands down the most popular roofing material anywhere in Oshawa and the surrounding areas. They provide long term protection and are wind, sun, and temperature resistant. They retain their beautiful appearance over a long period of time, and are quick and easy to install. From asphalt shingles and metal roofs to tile roofing and flat roofing, all of our roofing materials are environmentally friendly and can be recycled over and over.
Oshawa Roof Replacements Done Right
One of the reasons why Crowells Roofing is the #1 choice for roof replacements in Oshawa and the surrounding areas is that we offer personalized, quality customer service for each of our clients. Our goal is to make sure you are completely satisfied with both the work and the finished product. There' s no roofing system too complicated for our Canada certified roofing contractors. We will work closely with you through each phase of the project until the job is done. Next time you need a new roof, hire a roofing company you can trust. Go with Crowells Roofing. We are the Oshawa roofing specialists!
If you are interested in a roof replacement in Oshawa or the surrounding areas, then please call 905-926-1765 or complete our online request form.